I finally bit the bullet and refinished my kitchen table. It's been staring at me the past couple years & I've said, "I plan on redoing that thing…" to our guests way too many times. Something had to be done!
I am not going to pretend the technique I used were my idea. I got the idea to use Old White Annie Sloan chalkpaint from this blog I came across on pinterest. I wanted to give it a weathered old oak-lime look. The process is listed below, [& yes, it really was as easy as it seems].
First the materials:
Annie Sloan Old White | Annie Sloan Medium Oval Brush | Annie Sloan Soft Wax
+ you will also need a soft rag
pg. 132 to be exact.
I didn't take a good before picture of the table, but it's an old orangey oak pedestal table that has been around for quite a while. Yes, it was actually the table I used to pound my fork into when I was just a babe. Yes, it was also the table that followed me to my college apartment, [& Tony's brother's college apartment]. And, yes, it is now the table that has sat in our kitchen the past four years.
I stumbled across a boutique in town that sells Annie Sloan paint, [otherwise I was having a hard time finding it], and the owner of the shop had advised me to start with light layers. So I did.
I would paint on a light layer & then use my soft rag to wipe any extra paint off. I went about this process in small sections across the whole top of the table. The best part about using this paint is that you don't have to sand, prime, or ANYTHING before painting. It is like someone designed a paint with Kaylee in mind, "Here you go my dear Kaylee, no extra work required."
Yes, I know, did I even do anything? This picture has poor lighting, but there is a very light layer of paint across the top. Thus, ending step one.
I moved on to the base after the first layer, [I wanted it to dry a bit]. I LOVED the way the base turned out. I went after the base with a little different technique. Instead of a light layer, I painted a regular amount of paint, & followed it up by wiping away any extra paint. As per the Annie Sloan book and the blog I was following in this process: this is the technique suggested. It worked magically.
The other BIG PLUS about this paint is that if you have any paint in areas you would like to lighten up or take off completely you can dampen your soft rag, apply a little pressure, and rub off the paint completely.
This tip is important to remember because you may take off paint up using this process until you decided to put on the soft wax. Once the wax is put on, it can be sanded off, but it takes a little more work.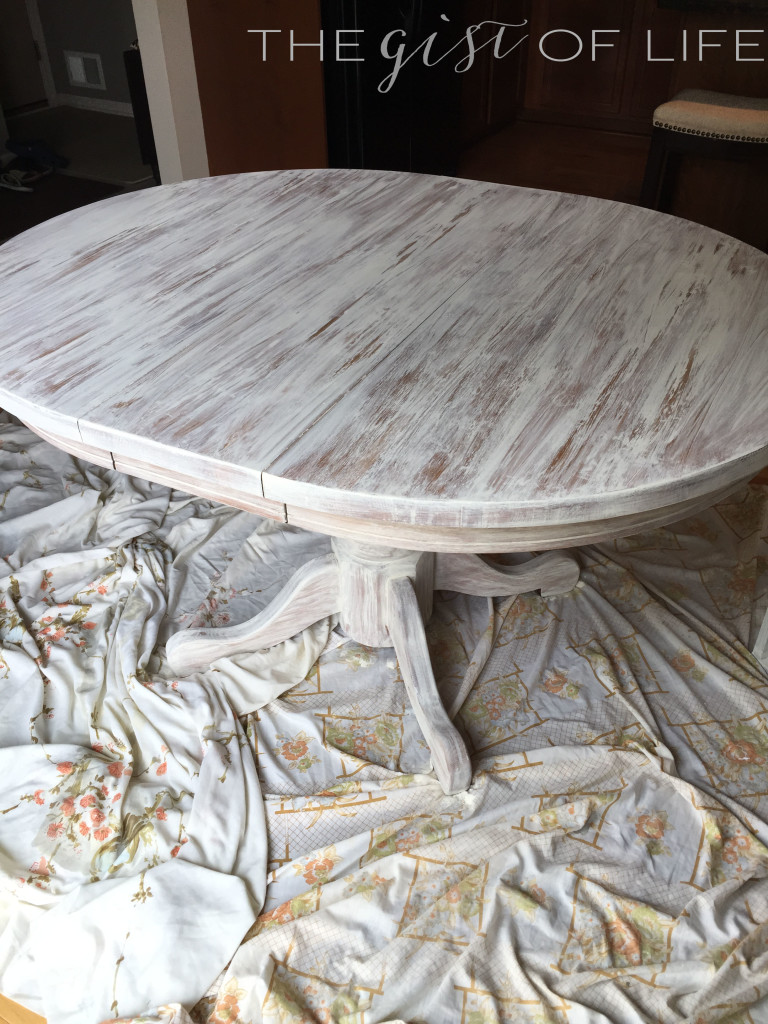 After a couple more painted, light layers, wiping off with my rag, and playing around with some problem areas, I was ready to wax.
I had to come to the conclusion: I wanted the table to look perfectly imperfect. I finally dropped all materials and stopped trying to get the top to look just so. It's supposed to look weathered, old, and like it's been sitting in a barn for years, and I think I'm as close to that look as possible!
So, to summarize in four short steps:
Step 1: Apply your Old White with your oval Annie Sloan paint brush lightly in small sections
Step 2. Wait 1 minute (depending on your preference for coverage), take your rag and wipe off paint. Apply pressure based on the coverage that you prefer
Step 3. Dampen your rag and go over the places on your piece that you would like to take off more paint
Step 4. Clear wax
Final product: