I won't pretend to be a professional at eating healthy; believe me, even I have my cheat days. However, getting told I had a cancerous tumor growing for years in my body, made me value the body I have – I wanted to make some changes.
Essentials:
veggies – lots of veggies, quinoa, & get yourself an inspiralizer 🙂

You'll notice a couple common ingredients used in my recipes below; a variety of veggies and quinoa.
Tips:
1. Look for inspiration! I am just getting to the point of feeling comfortable creating recipes from my own knowledge and creativity. I frequent the blogs Inspiralized, Damn Delicious, and Skinny Taste for ideas when whipping up something yummy.
More to come…
Green Dinner Recipes:
shrimp summer bowls w/ hoisin peanut sauce
dill chicken salad with tomato + mustard vinaigrette
zucchini ribbons w/ cherry tomatoes, pesto, & burrata
pesto zoodles with cherry tomatoes
zoodles w/ creamy, cauliflower sauce, & coconut shrimp
cheesy enchilada quinoa skillet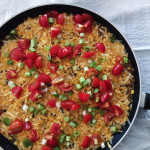 salmon spinach sandwich with cucumber-feta sauce
avocado-basil zucchini noodles with chile-lime shrimp & corn
spaghetti squash burrito bowls