Well guys, I've almost been 30 for an entire week.
I had a fabulous 30th birthday party thrown for me last weekend, planned by my amazing husband, sister, and a bestie, but up until that point, [and even a little this week], I was in a bit of a rut.
I wish I could say that I wasn't one of those women who gets caught up with age & letting age dictate how you live your life, but I definitely have my moments.
When I was younger, turning thirty felt like a death sentence; it seemed so far away & it seemed so old. I thought I'd have at least two kids by the time I was thirty, I'd be driving some sort of giant SUV, attending parent-teacher conferences [of my own kids], & staying up past bedtimes to get extra snuggles in with Tony. I imagined a fall of hayrides, a winter of Christmas traditions, leaving cookies out for Santa, a spring of splashes in rain puddles, and a summer off with nothing to do but parent my babies.
Like I said, thirty was old, established, being a parent, routines, and having all growing up entails.
But thinking about turning 30…. turning 30…. being 30…. has reminded me how different things are than originally imagined. So, in follows a rut; being bummed here and there.
I know I can still have everything grand that I listed above. I know I will. And that's what I know I need to focus on, as well as what I actually have in my life now.
Thirty isn't old. I have my fur baby, Ace, who keeps me active and greets me with kisses constantly. I drive a Jeep Wrangler, & might I add, I feel like a badass. I attend parent-teacher conferences of my own students, rambling on about how amazing my students are & how much joy they do actually bring me everyday. I'll stay up past my bedtime, occasionally, to binge watch a Netflix series with Tony & I drink too much prosecco. I have Falls of caramel, apple pies from The World's Largest Candy Store, and Christmas traditions of making holiday cookies with Tony & Ace. I have Springs of running outside with Ace and greenhouse visits, and Summers of patio lounging & music baths.
We all have our moments of weakness and the grumpies & the ones I had about turning 30 were wiped cleaned by my amazing husband last weekend. He planned a Saturday of surprises, [with the help of my sister and my good friend, Natalie], and left me smiling all night.
The day started with afternoon drinks with my sister and her boyfriend downtown, followed by a rooftop surprise from all my favorite people. One of the best parts of the day came after rooftop drinks: Salsa dancing lessons! It's been something that has been on my life to-do's FOREVER & I was finally able to cross it off. Watching all my best friends 1-2-3 step to music was simply unforgettable. Tony definitely outdid himself with planning something so special, not to mention how hard he was trying to perfect his salsa; it was amazing.
After salsa dancing, we walked back to my sister's apartment to find my mom and my mother in law, laying poolside with drinks in hand, appetizers out, and happy birthday signs hung. It was another great surprise, [and amazing sight to see the two of them drinking nonchalantly poolside].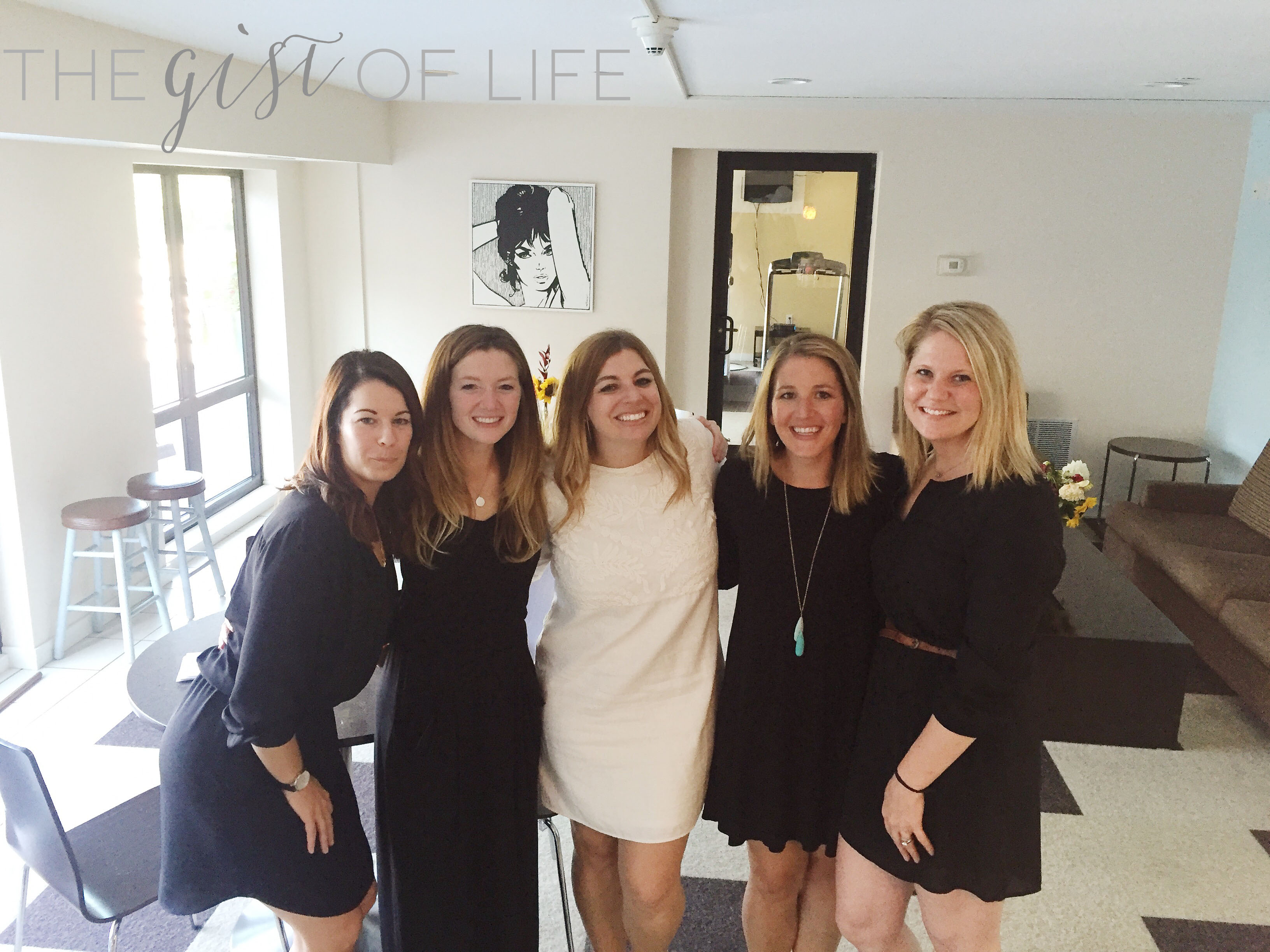 The surprises didn't stop.
After enjoying pizza, beer, prosecco, and a lot of laughs, looking over the Minneapolis cityscape in my sister's party room, I started wondering about my dad and father-in-law, who were still absent from the festivities.
& guess who decided to show up?
… One of my favorite guys 🙂
My dad and father in law came strolling in with Ace on a leash & a party hat atop his head. It was a moment that had tears spilling over my cheeks.
I know.. I know.. I'm a basket case, but my favorite little ginger showing up really tugged at my heartstrings.
After enjoying more beer, prosecco, and selfie taking..
We walked up the street to the cutest brewery there ever was, Sisyphus Brewery, [who is dog-friendly!], so Ace got to join us, as well!
Ace also enjoyed playing shuffleboard 🙂 & was a hit among bar patrons.
It was an absolutely wonderful day & I'm one of the luckiest girls. The amount of love I felt is hard to put into words.
It definitely made turning 30 a whole lot easier.
There's an updated life to-do list, funny enough, this was the first life to-do list I made when I started my blog. I decided to leave it as is; there's something that won't let me erase the 27-year-old-Kaylee's wishes and wants for herself at 31.
Tuesday of next week, brings my 3.5 year scan. Irritability, anxiousness, & sleepless nights have commenced. Thank goodness my 5th graders keep me plenty busy day-in, day-out.
Alright my apple pies, I'm off to continue reading the book Teacher Misery: Helicopter Parents, Special Snowflakes, & Other Bullshit; I'm in love. It's amazing.
xo