Ace and I have an annual tradition: the weekday before workshop begins, we take the day to ourselves & do anything and everything that makes Ace happy.
It's one of my favorite days.
I drop all my agendas, to-dos, cleaning tasks, etc… and I do anything Ace wants, [within reason].
This year's holiday tradition fell on a Saturday. Friday's plans didn't go as I expected, [Ace ended up being a patient, undergoing tests until about seven PM], so I came to the conclusion of allowing the holiday to be changed to a weekend, just for this year 😉
We kicked off the day by staying in bed until about 10:30. Fall was definitely in the air and the cool, crisp air had Ace and I snuggling under the covers for a couple extra hours. It was nice to take advantage of a morning and to take our time getting out of bed to get ready for the day. It doesn't happen often; Ace and I both enjoyed the extra hours of snoozing.
We enjoyed a hearty breakfast of fried eggs & avocado toast [just me]. We took a couple hot laps in the backyard, chasing after the pesky squirrel that's been teasing us all summer, [mostly bothers Ace].  And we set off for our annual tradition of visiting a pet store to pick out some new toys.
This year Ace and I decided on Chuck and Don's for the privilege of picking out his own toys and treats.
We had a great time sniffing the toy row – Ace likes to take his time to pick out the most special toy.
Once we made our selection, we waited patiently in line, and also made sure to smile and wink at the cashier for an extra treat.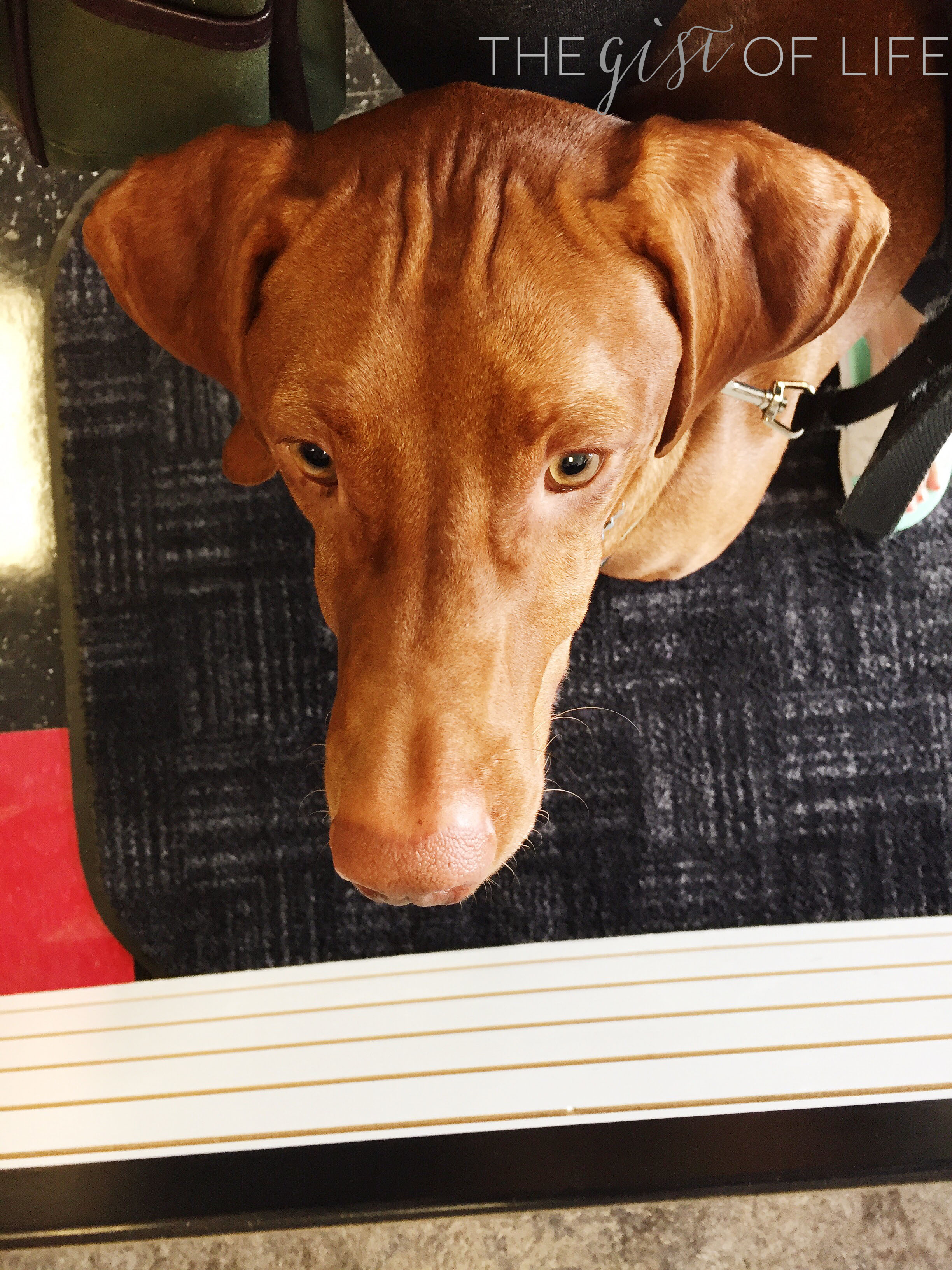 The cashier definitely didn't know what hit her, because we walked out with three extra treats in our bellies.
Once we got home, we definitely played with our new purchases.
[This weird duck thing was one purchase – not quite sure on the draw??]
& we played & played.
[Another weird purchase – some sort of turtle, platypus? Like I said, Ace picks them out… I just buy].
After playing & playing, we were both deserving of a cuddle and a nap, which we do well, too.
We had to skip the dog park this year, [dumb allergies], but ended the day with a great walk when Tony got home from his softball tournament.
All in all, it was another great holiday with my boy. I always get kind of weepy when I really think about heading off to work and leaving him at home all day, [I'm sure he welcomes the alone time, away from all my kisses & 'I love you, Ace's'], I have no idea how the hell I'll do it when I have kids someday.
I'd like to think he can sense the change, hopefully it doesn't hit him out of left field, but it the mean time, I'm going to soak in all the snuggles I can.
ps – he was diagnosed with epilepsy on Friday. But like I said before that was a well known fact, we're going to be just fine.
I'm off to enjoy the last couple hours before the school year officially starts, yikes!
xo